Wild Birds Unlimited is Sponsoring
Project FeederWatch & BirdSpotter Photo Contest
Project FeederWatch is a winter-long survey of birds that visit feeders across North America. FeederWatchers periodically count the birds they see at their feeders from November through early April and submit their data. This helps scientists track broadscale movements of winter bird populations and long-term trends in bird distribution and abundance.
Anyone interested in birds can participate - including children, families, individuals, classrooms, retired persons, youth groups, nature centers, and bird clubs. You can count birds as often as every week, or as infrequently as you like: the schedule is completely flexible. All you need is a bird feeder, bird bath, or plantings that attract birds. Click here to join.
You can also participate in the BirdSpotter Photo Contest. Now through early March, submit your bird photos for a chance to win prizes from Wild Birds Unlimited. Click here to learn more.
Project FeederWatch is operated by the Cornell Lab of Ornithology and Bird Studies Canada.


How To Better Identify
Birds for GBBC
As a Great Backyard Bird Count (GBBC) participant, you may see birds you don't know. To identify lesser-known birds, practice answering the following questions, looking at a bird from the top down.
1. Silhouette
Look at the bird's overall size, shape and posture. Is it the size of something familiar like a sparrow, robin or crow? How does it sit, perch or fly?
2. Head Markings
Does the bird have a colorful or striped cap? Is there a stripe above or through the eye, or does it have an eye ring or "spectacles?" Look for cheek patches or a mustache. Is there a white throat patch?
3. Body Markings
What are the overall back, breast and belly colors? What's on the chest: a patch, spots, streaks or is it clear? Are the flanks (sides of body) clear or streaked? Is there a white or yellow rump patch?
4. Wing Markings
Are the wings a different color than the body? Are there wing bars or spots?
5. Tail Shape and Markings
Is the tail long or short compared to the body? Is it forked, squared, pointed or another shape? Are there certain colors or vertical or horizontal stripes?
We offer a variety of binoculars that will provide clear views and field guides that will help you determine a bird's identity. With practice, you will quickly gather all the clues you need to positively identify birds.
For more tips on how to better identify birds, visit http://gbbc.birdcount.org/.
Give Birds A Window Seat!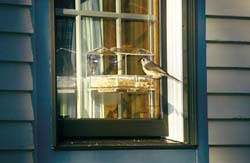 If you want to see birds "right outside your window" try a window feeder! You'll see how they choose their seeds or other food and get a close-up view of their feathers, markings and other special features. Have a field guide nearby for easy identification! Give fruit, mealworms, nuts or seed to the birds in the WBU Double Tray Window Feeder. If you don't have hummingbirds year-round, take off the lid of the WBU Window Hummingbird Feeder and use it to feed the birds a varied fare! Fill a WBU Window Feeder with seed and see who sidles up for a snack.