Share Your Photos!
Thanks to our customers for sharing these wonderful photos of birds and other backyard critters!
If you'd like to see your photos posted here, send them via email to: wbu@sbcglobal.net. Please send in .jpg format and be sure to include your name and city. We are especially interested in photos of birds enjoying WBU feeders and/or birdfood! Let us know what food they are eating (such as "Naturally Nuts Suet" or "Choice Blend"). By submitting your photos, you are giving Wild Birds Unlimited permission to use the image on our web site, in our emails to customers, or in-store. Any photo used by WBU Indianapolis will give you credit by name and city, unless you would like to remain anonymous.
Thanks to Chris B. for sharing these great photos of her "big bird" visitor to her feeding station!

Have you had such unusual visitors to your backyard?

That is a very creative way to present your tailprop suet feeder. We imagine it helps deter the starlings!
| | |
| --- | --- |
| | A big thank you to Steve and Sandy Roesener for sharing their photo of this Cooper's hawk spotted in their backyard in the Geist area! |
| | |
| --- | --- |
| Our buddy Bob S. photographed this Eastern Towhee. They will often feed on the ground, scratching noisily in the dry leaves. Their song varies, often with a few introductory notes and usually ending with a long trill, such as drink-your-tea! | |
Bob S. took these great photos of his backyard visitors. They need fresh food to help survive the cold winter nights too!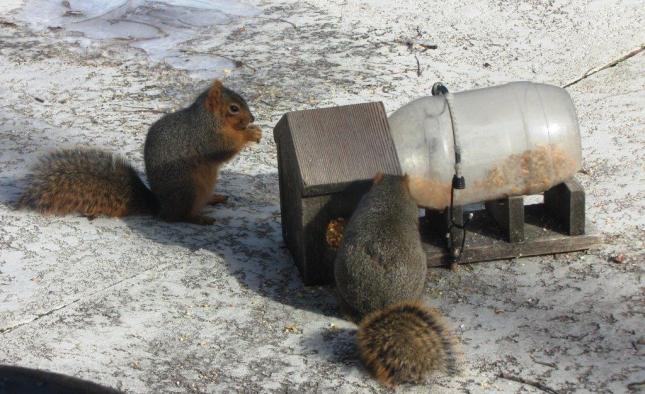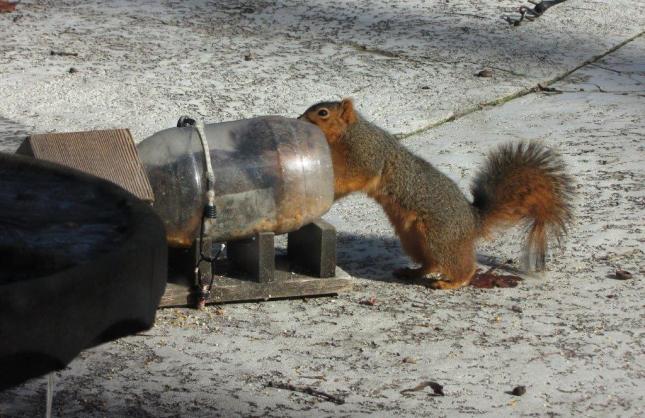 | | |
| --- | --- |
| | Check out this great photo our friends, Don and Ginger, captured in their yard. Even hawks need a bath now and then. Take a look at those skinny legs! |
| | |
| --- | --- |
| | Who likes peanuts? A better question - who doesn't? Thanks Bob Sternberger! |
| | |
| --- | --- |
| Thanks to our buddy, Bob, for these two photos of a male American Goldfinch and female pileated woodpecker. She sure is doing a balancing act on the suet feeder, but it must be worth it! | |
| | Thanks to our customer Nancy for this great photo of her feeding station where she captured an indigo bunting visiting her finch feeder. If you are able to get some good photos email them to wbu@sbcglobal.com and we will post them here. |
| | |
| --- | --- |
| | Thanks to our employee, Melanie, for this stunning picture of her eastern bluebirds eating berries in her yard. If you do not have berries to pull them in, try putting out some live mealworms. |
| | |
| --- | --- |
| A big "thank you" to customer Deborah Batt for these 3 photographs. To the right you can see her resident coopers hawk who likes to sit on her bird bath and wait for the birds to show up at her feeders nearby. Below you can see her adult ruby throated hummingbird hovering at a WBU feeder and a juvenile hiding in an evergreen. | |
| | |
| | |
| --- | --- |
| | What could be more fun that capturing two birds in your binoculars? - capturing them with your camera, of course! Here our friend, Bob Sternberger, has been able to photograph clearly both our white breasted nutchatch and a house finch enjoying some of their favorite foods! |
| | |
| | |
| --- | --- |
| | One of the great things about winter is the ability to see those birds that hide behind the leaves all summer. Jason Lee captured this great shot of an Eastern Screech Owl (Rufous Morph) at Muskatatuck National Wildlife Refuge. If you have never been there put it on your list of places to visit in 2012! You won't be disappointed no matter what time of year it is. |
| | |
| --- | --- |
| A big thank you to our friends from Greenfield, Jason and Susan Lee, for these two photos. It looks like these 2 goldfinches are in deep conversation (perhaps about their transitional plummage). | What a beautiful female hummingbird! It looks like she likes this WBU window hummingbird feeder. We miss them and look forward to their return next spring. |
| | |
| --- | --- |
| Check out this family of pileated woodpeckers visiting the Baney family near Ft. Harrison State Park. | Looks like someone, perhaps Junior, is interested in coming inside to see what other treats the Baneys are offering, :-) |
| | Thanks goes to our friend, Ron Miller, who captured this beautiful red-shouldered hawk with his camera. Ron shared with us that this beauty was trying to capture his young goldfinches for a meal. |
| | |
| --- | --- |
| Thanks to Bob Sternberger for these two photos. Here he captured a male goldfinch on his peanut feeder. Not often seen and seldom photographed! | Check out Bob's female hummingbird in flight. You can actually see several images of her wings due to the rapid movement! They beat their wings about 75 beats per second in normal flight and during courtship flights both the ruby throated and rufous hummingbird wings can beat 200 times per second! |
| | |
| --- | --- |
| | These photos are courtesy of Judy Born. She took these near her home on Old Oakland Golf course in the Oakland Hills area of Lawrence. This is a leucistic eastern bluebird. They are not albino because they do have a bit of color in the eyes and on the wing. |
| | Thanks again to our friend Bob Sternberger for this excellent photo of a Northern Flicker eating peanuts. You can easily see several field marks. Note "his" black moustache, the black bib and even the yellow on his tail feathers. The only thing you can't see from this angle is his white rump! Shelled peanuts can pull in many different birds - try offering them in your backyard |
A big Thank You to Holly for sharing these 3 great photos. Take a moment and look at that hummingbird's tongue. It is not often captured in a photo. She also cought a nuthatch clinging to her minibuster and 2 carolina wrens exploring the suet.

We hope you are enjoying a nice variety of birds like Holly has enticed into her yard on the northeast side of Indianapolis.
Bob Sternberger shared these two woodpecker photos with us. This little downy looks a little wind blown. Notice even the peanut feeder seems to be caught at an angle. Peanuts are a great hit with woodpeckers and many other birds!

Here Bob was able to catch his female pileated woodpecker on the suet feeder.

Looks like it is getting low Bob. Time for a trip to Wild Birds Unlimited to get some more of those large tubs of suet. One tub is equal to about 3 of the cakes and using the larger portion means you don't have to make as many trips outdoors. Instead you can stay inside and capture photos like our friend Bob does!
| | |
| --- | --- |
| | Check out this lovely male indigo bunting photo taken by Bob Sternberger. The indigo buntings will come to feeders in the spring before insects are plentiful. They are seen along woodland edges, feeding on insects. Males often sing from treetops to attract mates. |
| | |
| --- | --- |
| | Debra Lloyd shared this stunning photo of two male rose-breasted grosbeaks visiting her feeder in Fishers. |
| | |
| --- | --- |
| | Kathy Roesner of Brownsburg sent us this lovely photo of her bluebirds on her WBU heated bird bath. |
| | |
| --- | --- |
| | Blair Bissonette shared this photograph of an eastern screech owl peeking out during the daylight. He doesn't look too happy to have all the light shining in his eyes! Thanks Blair! |
| | |
| --- | --- |
| Marty Seppala of Lawrence Township was able to capture this picture of a goldfinch - check it out! Look at those yellow feathers popping out. Maybe that groundhog was right and we will have an early spring! | |
We want to thank Ryan Eaton for the folliwng two photos. One of an evening grosbeak taken in Michigan last summer. The other is a northern flicker.
| | |
| --- | --- |
| | Check out this cute hummer Dee Bloom photographed on her WBU window feeder in September. |
| | |
| --- | --- |
| Bob Sternberger's squirrel found a unique method to cool off this summer. | Here is another of Bob's squirrels "taking life easy." |
| | |
| --- | --- |
| Sue Gregg took two photos of a Nashville warbler outside her dining room window on October 3rd. | |
Bob Sternberger took some great photos in his awesome yard. Below check out his hummer, his finches and his thirsty visitors - a piney squirrel and raccoon!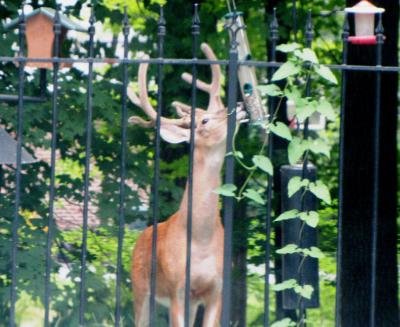 This awesome buck photo was taken by Bob Sternberger. Even the deer like our WBU bird seed!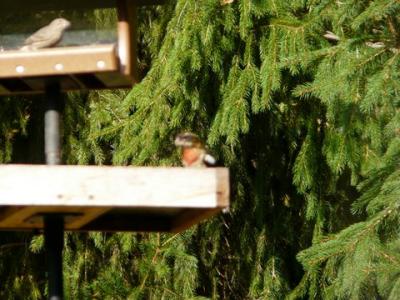 Debra Lloyd caught this shot of a rosebreasted grosbeak at her feeder on Sept. 16th. Have you seen any this fall? Be on the look-out because they will stop by for food on their way south.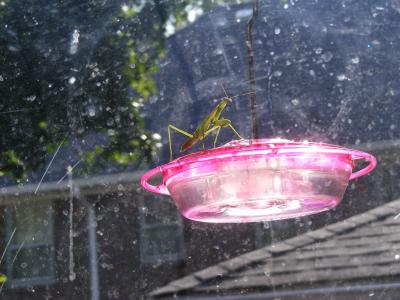 Do you know the natural predators of the hummingbirds? Gina Jannazzo, our manager, caught this photo of one - yes it is a praying mantis! Another predator is the bullfrog!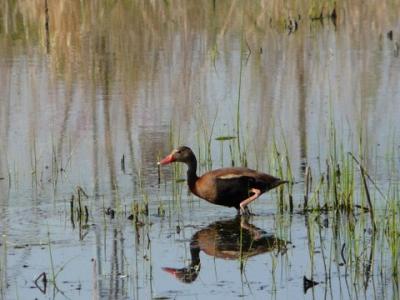 A rare bird to our area, this black-bellied whistling duck was seen in Carmel's
Central Park. It would normally be seen along the gulf coast of Texas. Thanks
to Debra Lloyd for the excellent photograph.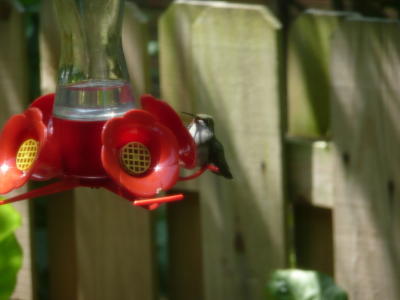 Check out this incredible shot taken by Bill Hoke on Indianapolis' eastside.
He was able to capture the hummingbird with it's mouth open wide!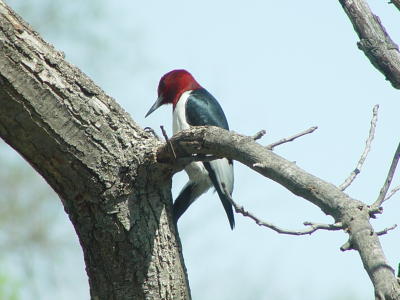 Our friends from Cicero, Doug and Pam Niccum, sent us this wonderful shot
of a red-headed woodpecker seen in their backyard around April 20th.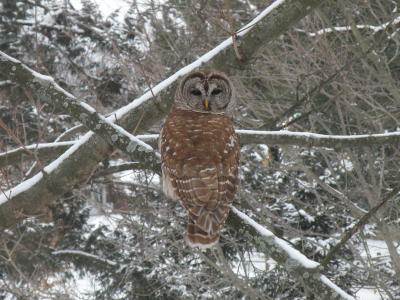 Martin Holdsworth of Carmel took this beautiful photo of a perfectly posed
Barred Owl in snow-covered trees.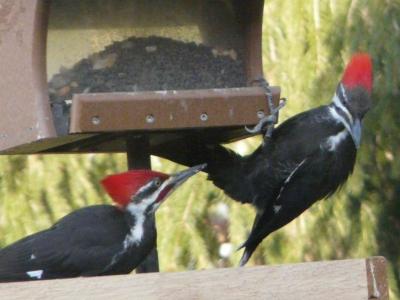 Check out these WBU fans that showed up at Debra Lloyd's feeder in Fishers.
Note the red moustache proudly displayed by the male.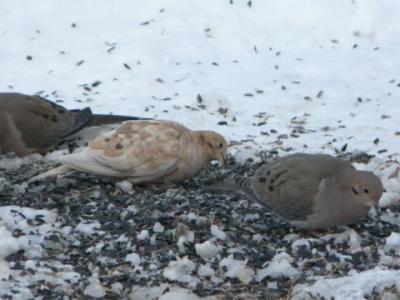 Debra Lloyd of Fishers had this odd-looking Mourning Dove in her yard recently.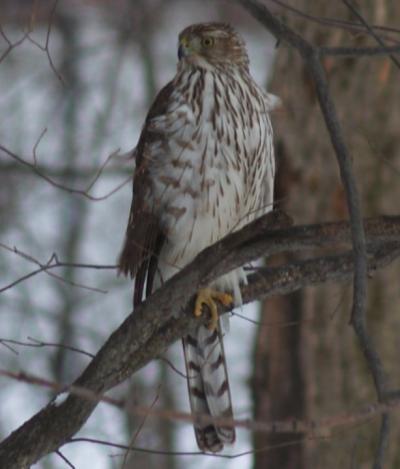 Blair Bissonette snapped this great photo of a juvenile Cooper's Hawk in the backyard.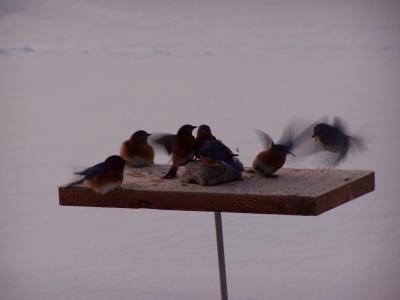 Nikkie Knecht of Greensburg - "Here are some pictures of my spoiled rotten bluebirds eating the mealworms that I buy from your store."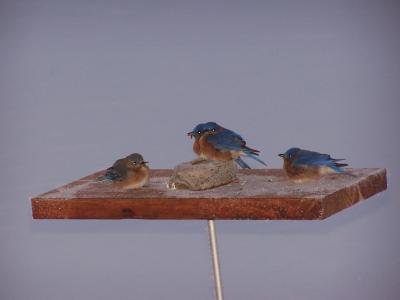 More of Nikkie's Bluebirds. . . a little frosty this time!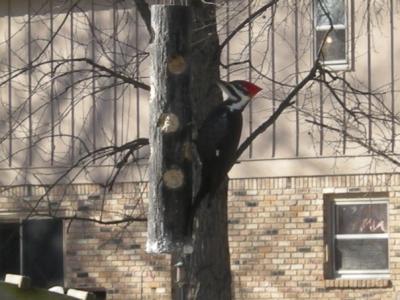 Carolyn Wright, Carmel, had this Pileated Woodpecker visit her suet log feeder on New Year's Day
- what a treat!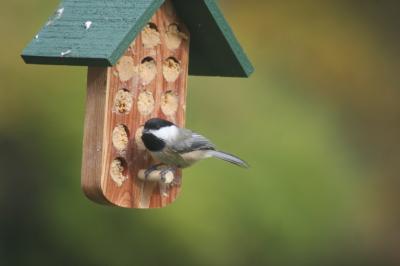 Cindy Kicinski, Indianapolis, took this great photo recently after she purchased a tub of Jim's Birdacious Bark Butter and a feeder to go with it. She was pleased with the variety of birds that visited.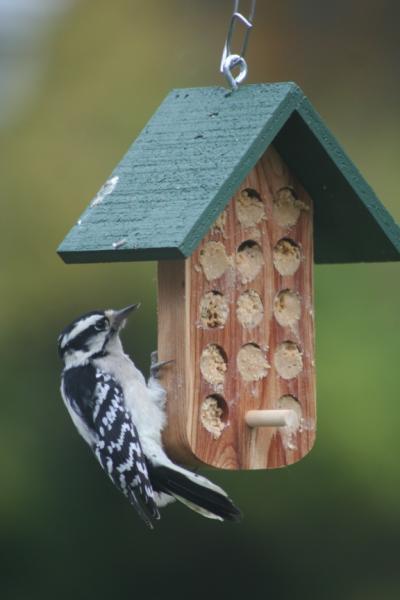 Here is another visitor, a downy woodpecker, to Cindy's bark butter feeder.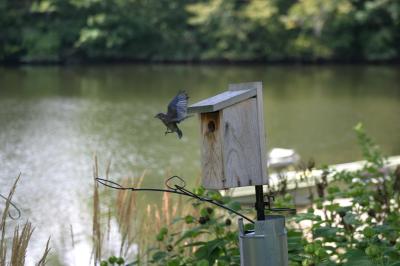 Kathy Roesener of Brownsburg, IN got to observe this maiden flight of a bluebird fledging from its nest box and snapped a great photo of it. . .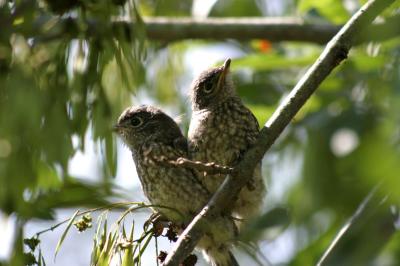 Then, the fledgling flew into a tree and sat beside its sibling who just left the nest box minutes prior to this little guy!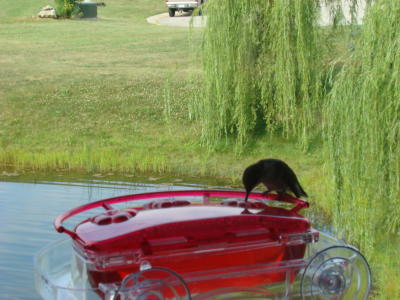 Rob Plawecki of Pendleton, IN was able to get up close and personal to take this shot of a hummingbird on the NEW WBU Decorative Window Hummingbird Feeder with ant moat.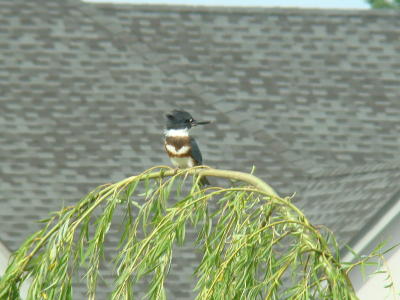 Rob Plawecki of Pendleton, IN has had this Belted Kingfisher hanging around his house for about a week.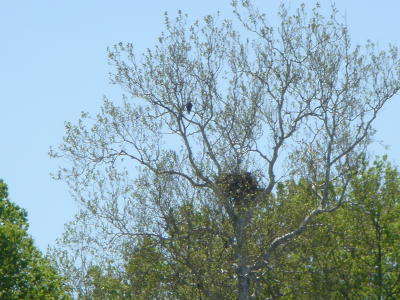 Mike Hufnagel of Indianapolis, captured this great photo of a bald eagle and its nest!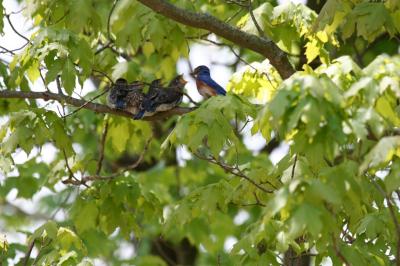 The Kevoians of Indianapolis captured this candid photo of a bluebird parent feeding its young.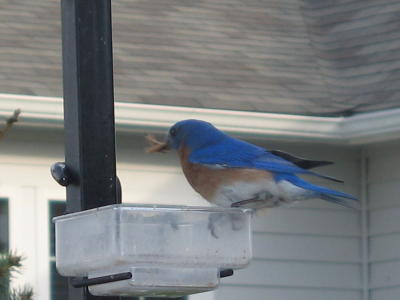 The Hallers of Fishers put mealworms out in this side dish feeder and their bluebirds gobble them up.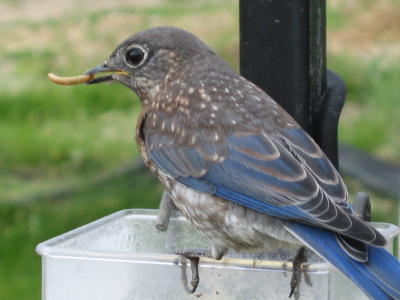 This is one of the bluebird young in the Hallers' yard in Fishers. They even have many of the bluebirds trained to eat mealworms directly from their hands!