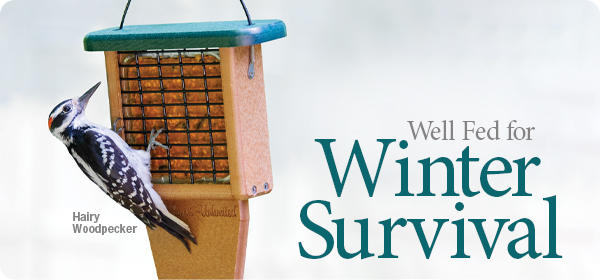 Help Your Birds Survive and Thrive During the Cold Winter Months
You can play a vital role in helping birds well fed through the winter. Food is the most essential element, providing birds with the energy, stamina and nutrition they need. To stay warm, birds will expend energy very quickly, some losing up to 10% of their body weight on extremely cold nights. An ample supply of high-calorie foods such as sunflower, nuts, suet and Bark Butter Bits is crucial to a bird's survival.
Shop now at MyWBU Store for the best in winter bird foods.
FREE Store Pickup -or- FREE Shipping on Orders of $75 or More*
*Valid only by shopping online at MyWBU Store.
Order ahead for free pickup at the store or get free shipping on orders over $75 that ship within 150 miles of the store. Orders that ship to further destinations will incur a shipping charge shown at the time of checkout. Daily Savings Club points will accrue for online purchases when you register at MyWBU Store with the same email address associated with your DSC membership.